Philippine Basketball Association's new season is set to unveiled in two weeks. But even if partial game schedule including a Manila Clasico on Christmas day is set, no absolute garuantee yet if indeed the plans of Asia's first pay for play league will be carried out. Thanks to a divided PBA board for that.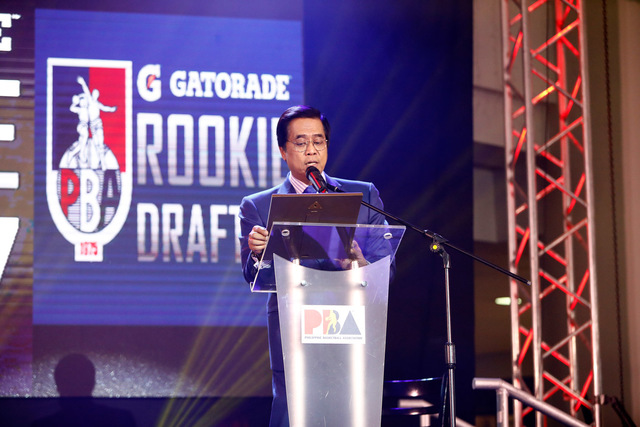 We often hear and say that majority rules, but not this time as it looks like the fewer SMC bloc which is composed of 5 of the 12 teams is presenting a huge roadblock to MVP lead factions of 7 clubs in unseating the embattled Commissioner Chito Narvasa. MVP group calls for Narvasa's ousting and even had it done via a "board" meeting which according to the SMC side is an action the league charter prohibits. And the impase started there...
Now what happen is this stand off in the PBA office brings a cloud of uncertainty to a lot of things and people of course. To some people this may even fire a bigger problem - fearing that if FIBA takes notice we may again be suspended - I personally think this wont happen. Not unless the SMC bloc starts to contest the current SBP leadership and start to make noise and worst put up another national basketball federation - remember the BAP issue in the past?? - I pray to the hoops gods and goddesses that this wont be allowed.
Going back to the NarvasaDrama, I personally believe that the good commissioner must take the higher road. This situation presents him a very good opportunity to show how credible of a man and a leader he is. Leadership is given as a mandate by the majority and if the majority does not trust you anymore there is no reason why cling on a post. I can understand the SMC group's reasons but for sure they know too that for commissioner Chito to be re-appointed anew he'll need the majority vote to affirm the appointment. Clearly he does not have it, so why stay?
This problem cannot be fixed by PBA board alone to my point of view. Instead the man who fix this is Mr. Narvasa alone. He is the reason of this seemingly power struggle between these business tycoons who happens to run basketball clubs. If Mr. Narvasa is true to his words whenever he expresses love to league then he must take a huge sacrifice of leaving it. As a song says - leaving sometimes does not mean losing the love but instead it shows how much love a person can give.
A Narvasa resignation will save a lot of people time, money and well... dreams.
Photo credits from Rappler