I am a Ginebra fan, the type that shouts and jump whenever Japeth Aguilar is rattling the rim by his thunderous slams. Our neighbors hears me scream for every huge and timely floater LA Tenerio makes during crunch time. And I am a die hard that feel so bad when the Gin Kings bow to another team. But earlier's loss to Black Water Elite for some reasons did not make me feel that bad. In fact there is some amount of satisfaction and I felt good for the Elite for slaying the crowd favorites. I reckon that beside me being a natural underdog lover, I feel elated for some reasons.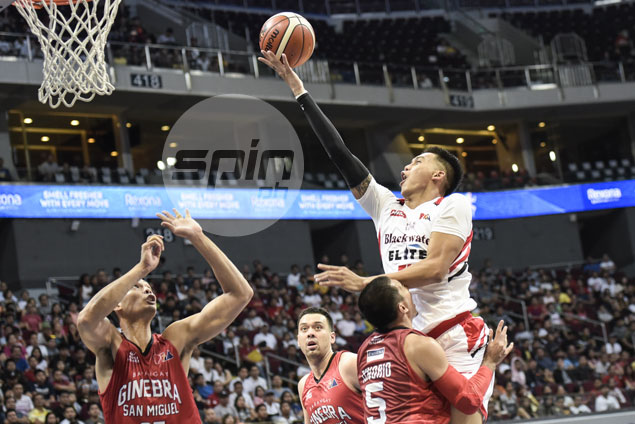 Photo from Spin.ph
It's great to see a hardworking blue collar team beat a high caliber club. I am happy for Coach Leo Isaac for this big win, this should lift his confidence that seasons of his team dwelling on the cellar "maybe" over now. I am happy for Mac Belo who's for the 3rd consecutive game has scored like a true A-Lister, something that seem to have been lost on him for a while prior to this season. Also noteworthy of a mention are the great performances from Poy Erram, Mike Digregorio, James Sena and boy until this game I was not aware that there is an Emil Palma on the BW. The thought of somone or a group of hardworking guys starting (seemingly) to reap what they sowed is truely inspirational. Additionally it gives some kind of "balance" to the league which has been tainted by team disparity as of late. Hopefully other Titan Teams TNT and SMB will be given a run for their money too by teams like Black Water.
As for Ginebra, I don't know but as early as halfway through 3rd quarter the boys seemed be playing without harmony. I did not feel and see intensity and was not asserting their advantages. This loss actually is good for Ginebra for them to regroup and regain the killer instinct. It also helps that this loss came this early in the Philippine Cup. There still a lot of basketball left for this conference and for sure our boys will bounce back. For sure Coach Tim Cone has had an extended post game talk. Loss like this builds character and makes our Team hungrier again. I pitty the next team Ginebra will face, for I am sure all the frustrations they had from this game will be thrown down on them.
It's just that tonight, Black Water wanted it more and simply the better Team. But I am not sure if it's going to be the same next time.
Bawi tayo mga Ka Baranggay!!!!