Last night PH basketball fans were offered two varieties of hoops spectacle. Not that it rarely happens but last night's head 2 head comparison of PBA's double header game vs. Alab PH's home game in the ongoing ABL season merits some reflection specially from the team that runs the PBA.
Last Sunday when Ginebra played Global Port at the Smart Araneta Coliseum league officials were elated to see the fans "coming back". It was mentioned that considering it's the tail end of the holiday break, the Kings - Batang Pier game still managed to attract some 9000 patrons. It's a pronouncement made to answer comments about supposedly alarming gate attendance trends in the past months. This being attributed mainly to several issues that hounds the league, the most recent being the issue with former commissioner Chito Narvasa (check out my piece about it).
For me to say that fans are already back is quite premature. Why? because Sunday's game is not a good measurement wheater the fans has really came back already. First, it's a Ginebra game - need to say more? In addition to that, it's been a while since they played (first game of the season was on Christmas of 2017) so Baranggay die hards are expectedly eager to watch the team play again. I thought to myself then, Wednesday's games can be a good test to say if fans has really came back or has started coming back.
Fast forward to Wednesday, another double header Magnolia vs. Kia and Alaska vs. Meralco - still at the Big Dome. I am no expert in crowd management nor did not see the games live but from the camera shots I'd say that the crowd did not reach 3000. Can the league officials still say PBA has recovered - gate attendance wise?
Photo from Manila Bulletin
A few miles awaty from Cubao is the San Juan FilOil Flying V Arena where the home boys Alab PH is hosting Singapore Slingers. And man, FilOil Flying V arena is an appartment compared to the mansion like Smart Araneta. But it was sure filled by fans compared to the PBA's. And in addition to that PBA personalities where seen to be watching the game as well. And interestingly that game seem to have made political rivals Estrada and Zamora families to be under the same roof - former senator Jinggoy and former cager turned politician Francis Zamora were on the venues.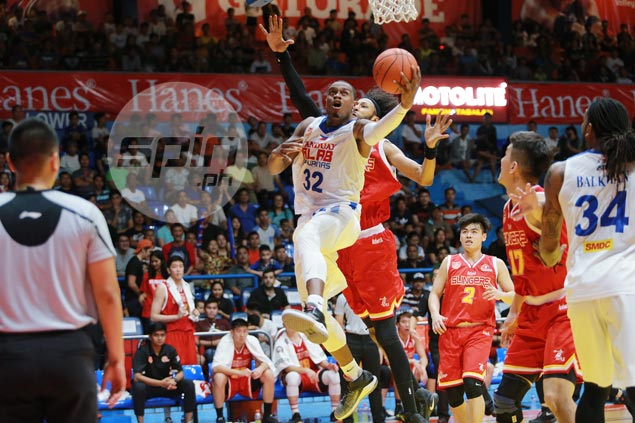 Photo from Spin.Ph
The Alab - Slingers matchup fared better vs its PBA counterpart last night on these things:
Intensity of the game was higher on that ABL game. Though it was pointed out that lately refs are allowing our PBA cagers to play more physical so in the next more games we'll see PBA intensity to pick up - hopefully.
Unpredictability of who'll win put the fans on the edge of their seats. Though Alab is hosting there were no clear certainty that they'd dominate the visitors and true enough the home boys lost the game. It also shows how balanced the game is, unlike with some PBA games where in by seeing who'll play you'd already have a good guess who'll win.
The fans obviously are appreciating the improvement of Alab boys as they have showed momentum. Prior to last night's game the Bong Tan franchise was on a 3 game winning streak. We Pinoys love comebacks right? Like never say die - like Justin Brownlee. There was even a sequence on their past game where fans were chanting Ginebra after a furious run lead by Brownlee.
I hope the minds behind the PBA would take time to examine on a deeper manner the whys and the hows of why Asia's 1st pro-league is struggling to really bring back its fans.